Experience report Todd McPencow
Experience report Todd McPencow
My 2012 crossing of the Atlantic Ocean


What I gave up by heading out on the journey from Bermuda to the Azores:



    3 weeks of nightly story time with my son.
    Nightly hugs and kisses from my son.
    3 weeks of spending time with my wife.
    Celebrating Easter with family and friends.
    Celebrating my birthday with my family.
    Chicago White Sox opening day (first time in my memory that I missed going, watching or listening to it).
    3 weeks of vacation from work which I normally would have spent with my wife and son.


But it was all worth it!

    
When I arrived at Port Penos in Bermuda and saw the 'Eye' sitting there, my breath was taken away by her beauty.  Then all of a sudden someone is calling out my name and welcoming me to the 'Eye of the Wind'. Several other crew members were doing some work but they all stopped for a second to greet me with warm smiles. My bag was whisked away from me by Kristina and I was brought to immigration by Britta who brought me up to date on departure (which was delayed due to the other passengers having lost their luggage en route). This was a blessing and dangerous for me as I had some extra time to explore Bermuda.
After Immigration, I was off in my taxi to pick up a shirt for a friend from the Swizzle Inn and I lived up to its reputation by swizzling in and swaggering out. Thus began my adventure. We had a quick meeting of crew and cast and Captain Julius revealed his plans for the trip. The captain seemed to come straight from central casting with the sweaters, the hat, the smoking, the coffee, quiet demeanor unless other is needed and his thoughtfulness when speaking.  

Rum Swizzle knock-out

After we casted off on Thursday morning and we went out to sea, my alcohol consumption from the previous night and the waves of the sea conspired to make me sick for the next roughly 36 hours. The crew though took my puking over the side in stride. Edward gave me some advice about staying up on deck or trying to do some work like sanding or taking the helm. Trish was always quick to bring me some water, a paper towel and some bread after I was done blessing the ocean with the water and bread I had previously eaten. Even though I didn't feel well during this time, I was still loving the adventure. I got to see the water a little closer than I normally would have and I can attest that it's really blue even out in the ocean.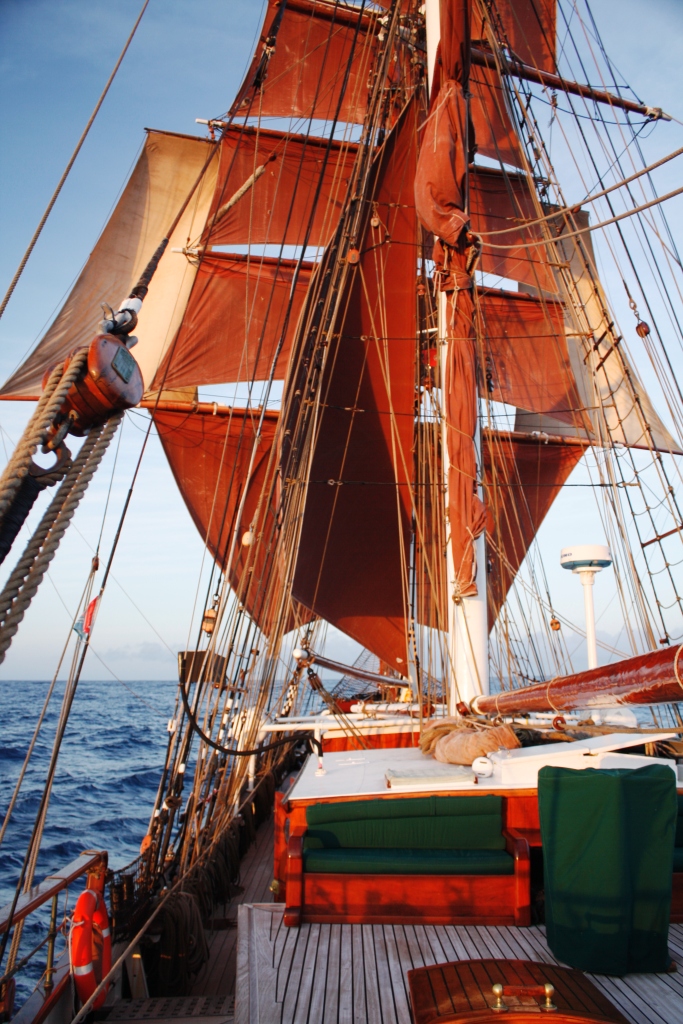 After the alcohol finally left my body and my inner ear adjusted to the motion of the ocean, I was finally not getting sick. I did miss some of the lessons about which lines went to which sails and what the sails were called but everyone (especially Appie, Jonas and Bastien) was eager to let me know. It was great to be able to assist in setting the sails, bracing or furling the sails. It's tough work but good work. My core received a good work out while out there.

A unique feeling

As I was preparing for the trip back in Chicago, I thought that I might have some periods of boredom -- I mean 18 days out at sea on a 120 foot boat.  I couldn't have been more wrong! I enjoyed talking with the different crew members -- learning about them, why they were on the 'Eye', what they did at home, how they decided to go sailing--as well as the other passengers. I made a lifetime friend in Klaus, despite having some very different views about life/politics. Just looking at the water, the horizon, the curvature of the earth was breathtaking. Seemingly being one of only 15 people in the world gave the adventure a unique feeling.

I scrubbed the deck one day--still disappointed that I didn't get this one spot entirely clean. It was tough on my shoulders but was good to get the blood flowing. Britta was a great 1st mate. She really comes alive out at sea, taking charge, leading the crew ensuring the ship is running well.  And damn I wish I had her shoulders…

(Photos courtesy of Tobias Lenich)